Gold Plating
Silver Plating
Nickel Plating
Electroless Nickel
Tin Plating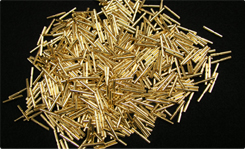 We offer electro-plated gold that conforms to military and aerospace specification. Gold is generally used in electrical applications (such as connector pins) where the low contact resistance is critical. Moreover, Gold is a noble metal, and as such is not subject to oxidation.
We utilize a high capacity vibratory line that allows for plating larger parts while maintaining the advantage of more uniform plating. This process allows for better coverage of inside surfaces and gentler processing of delicate parts.
There are various requirements for minimum purity and hardness, but all our gold processes:
Are High Purity – 99%+
Are Readily Solderable
Have Low Contact Resistance
Our capacity ranges from micro-contacts up to parts 30 inches in diameter. We offer rack/wire as well as conventional and vibratory barrel plating.
General Guidelines:
Copper based alloys should be plated with a nickel underplate as a diffusion barrier
Gold plate over a silver base material or plate is not recommended due to silver diffusion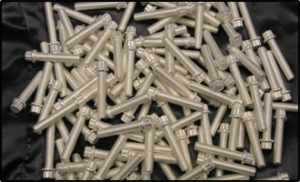 We offer Silver Plating that conforms to the Federal Specification QQ-S-365 as well as many company specifications and the AMS and ASTM specifications.
Our Silver Plating is:
Solderable
High Purity
Highly Conductive (both Electrical and Thermal)
Silver is used in various applications:
Electrical (Contact Pins, Buss Bars, etc.)
Bearing Surfaces (Silver has excellent lubricity)
As with our other processes, we are capable of processing a wide variety of parts from miniature contacts and parts up to 30 inches. This includes barrel Plating (conventional and vibratory) and racking/wiring.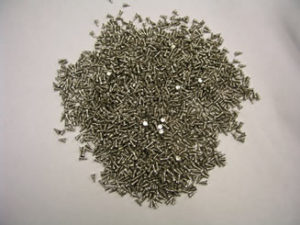 We offer Nickel Plating processes to meet a wide variety of applications.  Nickel can be used as a final plate for corrosion protection or as an undercoat for other processes, such as Gold and Silver.  Nickel ranges in brightness from matte (dull) to bright, depending on the process used.
Typical Processes Include:
Sulfamate Nickel:
Semi-Bright Finish
Excellent Ductility
Low-Stress Deposit
Meets requirements of QQ-N-290, AMS-QQ-N-290 and AMS 2404
Bright Nickel:
Bright Finish
Good Wear Resistance
Meets requirements of QQ-N-290 and AMS-QQ-N-290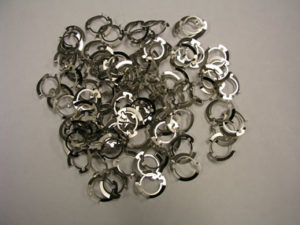 Electroless Nickel is a hard, wear resistant and corrosion resistant coating used in applications where a uniform thickness is required.  It is useful in service where temperature may reach 1000F. Since the nickel is deposited without current, Electroless Nickel will coat uniformly on complex shapes with recessed surfaces.  Electroless Nickel may also be post-baked to increase hardness.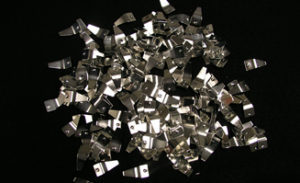 We offer bright electro-tin plating that conforms to the military specification MIL-T-10727, Type I – electro-plated.  The finish is smooth, ductile and solderable.
Typical Processes Include:
Electrical Components (Buss Bars, etc.)
Terminals and Contacts
Hardware
We have full barrel and rack/wiring capabilities for Tin Plating. Our equipment is suited for a full range of parts from very small up to 20 inches in length. We are also equipped for most base materials including aluminum, stainless steel, beryllium copper, kovar and invar as well as the common materials (steel, copper, etc.)
All expedites need to be approved first, so please contact us in advance, so we can determine whether the expedite will work within our current production schedule.
For a 24 hour expedite – The cost is $100.00 - parts must be received BY NOON and will be completed the following business day after 3:30pm. If parts are received after 12:00 pm, then the order falls into a Same Day Expedite category as noted below.
For a Same day expedite – The cost is $250.00 - parts must be received by 8:00 am and will be completed the same business day after 3:30pm (ONLY if relative bake requirements work within this timeline). If parts are received the prior day (after 12:00 pm) the order will be considered a Same Day Expedite. 
If it is your desire to have an order expedited, please provide a purchase order with the additional expedite charges included, and email this to Jeff@pmplating.com. Otherwise, your order will fall into our normal process which will be 3-5 business days after receipt of your order.
*Please note that all expedite requests must be agreed upon by PMP prior to sending the order to us. Expedite timelines may change to 48 hours or more, depending on the current production schedule, bake requirements, etc. As mentioned above, we need to review our production schedule, plating time and any necessary bake requirements prior to committing to an expedite. We appreciate your understanding!
MIL-G-45204/MIL-DTL-45204
Type I - 99.7% minimum purity
Type II – 99.0% minimum purity
Type III – 99.9% minimum purity
Grade A - 90 knoop maximum hardness
Grade C - 130 to 200 knoop hardness
Grade D – 201+ knoop hardness
ASTM B488
Type I - 99.7% minimum purity
Type II – 99.0% minimum purity
Type III – 99.9% minimum purity
Grade A - 90 knoop maximum hardness
Grade C - 130 to 200 knoop hardness
Grade D – 201+ knoop hardness
AMS 2422
99.0% minimum purity
.000050" minimum thickness on significant surface
QQ-S-365
Type I - Matte finish
Type II – Semi-bright Finish
Type III – Bright finish
Grade A - With supplementary anti-tarnish treatment
Grade B - Without supplemental treatment
ASTM B700
Type 1 - 99.9% minimum purity
Type 2 - 99.0% minimum purity
Type 3 - 98.0% minimum purity
Grade A - Matte finish
Grade B - Bright finish
Grade C - Bright finish achieved by polishing
Grade D - Semi-bright finish
Class N - No supplemental anti-tarnish treatment
Class S - With supplemental anti-tarnish treatment
ASTM 2410
950F post-bake for 20 to 60 minutes
ASTM 2411
900F post-bake for 2 hours - low alloy steel
1200F post-bake for 2 hours - stainless steel
1400F post-bake for 2 hours – inconel
ASTM 2412
300F to 500F post-bake for 2 hours
QQ-N-290 (AMS-QQ-N-290)
Class 1 - Corrosion protection
Class 2 - Engineering plating
Grade A - 0.0016 inch minimum thickness
Grade B - 0.0012 inch minimum thickness
Grade C - 0.0010 inch minimum thickness
Grade D - 0.0008 inch minimum thickness
Grade E - 0.0006 inch minimum thickness
Grade F - 0.0004 inch minimum thickness
Grade G - 0.0002 inch minimum thickness
ASTM B689
Type 1 - No additives
Type 2 - Additives allowed
Type 3 - SIC, WC or AlO added
Class 5 - 0.0002 inch minimum
Class 25 - 0.0010 inch minimum
Class 50 - 0.0020 inch minimum
Class 100 - 0.0040 inch minimum
Class 200 - 0.0080 inch minimum
Class X - X is specified (X is thickness of Nickel measured in Microns)
AMS 2403
AMS 2423
AMS 2424
Low Stress Deposit (Sulfamate Nickel)
MIL-C-26074, AMS-C-26074
Grade A - 0.001 inch thickness minimum
Grade B - 0.0005 inch thickness minimum
Grade C - 0.0015 inch thickness minimum
Class 1 - As deposited, no post bake
Class 2 - Post bake 500F for 4 hours minimum – Steel
Class 3 - Post bake 375F for 1 to 1.5 hours – aluminum
Class 4 - post bake 250F for 1 to 1.5 hours – aluminum
ASTM B733
Type IV - 5% to 9% Phosphorous
Service Class
SC0 - 4 micro inch minimum
SC1 - 0.0002 inch minimum
SC2 - 0.0005 inch minimum
SC3 - 0.0010 inch minimum
SC4 - 0.0030 inch minimum
AMS 2404
Class 1 - No Heat Treat
Class 2 - 450F Post-Bake for 4 Hours Minimum - Steel
Class 3 - 375F Post-Bake for 1 to 1.5 Hours - Aluminum
Class 4 - 250F Post-Bake for 1 to 1.5 Hours - Aluminum
Post Heat Treat
Class 1 - As Deposited – No Heat Treat
Class 2 - 500F Heat Treat for 20 hours - Steel
Class 3 - 375F Heat Treat for 2 to 4 hours - Steel
Class 4 - 250F Heat Treat for 1 hour - Aluminum
Class 5 - 295F Heat Treat for 1 hour - Aluminum and Copper
Class 6 - 590F Heat Treat for 1 hour - Titaniun
MIL-T-10727
ASTM B545
Class A - 100 micro inches
Class B - 200 micro inches
Class C - 320 micro inches for copper / 400 micro inches for ferrous alloys
Class D - 600 micro inches for copper/800 micro inches for ferrous alloys
Class E - 1200 micro inches
Class F - 60 micro inches
AMS 2408
2408-1 - 100 to 300 micro inches
2408-2 - 200 to 400 micro inches
2408-3 - 300 to 500 micro inches