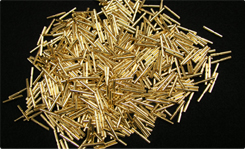 We offer electro-plated gold that conforms to military and aerospace specification. Gold is generally used in electrical applications (such as connector pins) where the low contact resistance is critical. Moreover, Gold is a noble metal, and as such is not subject to oxidation.
We utilize a high capacity vibratory line that allows for plating larger parts while maintaining the advantage of more uniform plating. This process allows for better coverage of inside surfaces and gentler processing of delicate parts.
There are various requirements for minimum purity and hardness, but all our gold processes:
Are High Purity – 99%+
Are Readily Solderable
Have Low Contact Resistance
Our capacity ranges from micro-contacts up to parts 30 inches in diameter. We offer rack/wire as well as conventional and vibratory barrel plating.
General Guidelines:
Copper based alloys should be plated with a nickel underplate as a diffusion barrier
Gold plate over a silver base material or plate is not recommended due to silver diffusion
All expedites need to be approved first, so please contact us in advance, so we can determine whether the expedite will work within our current production schedule.
For a 24 hour expedite – The cost is $100.00 - parts must be received BY NOON and will be completed the following business day after 3:30pm. If parts are received after 12:00 pm, then the order falls into a Same Day Expedite category as noted below.
For a Same day expedite – The cost is $250.00 - parts must be received by 8:00 am and will be completed the same business day after 3:30pm (ONLY if relative bake requirements work within this timeline). If parts are received the prior day (after 12:00 pm) the order will be considered a Same Day Expedite. 
If it is your desire to have an order expedited, please provide a purchase order with the additional expedite charges included, and email this to Jeff@pmplating.com. Otherwise, your order will fall into our normal process which will be 3-5 business days after receipt of your order.
*Please note that all expedite requests must be agreed upon by PMP prior to sending the order to us. Expedite timelines may change to 48 hours or more, depending on the current production schedule, bake requirements, etc. As mentioned above, we need to review our production schedule, plating time and any necessary bake requirements prior to committing to an expedite. We appreciate your understanding!